BROKEN WATER LINE SERVICES



Broken Water Lines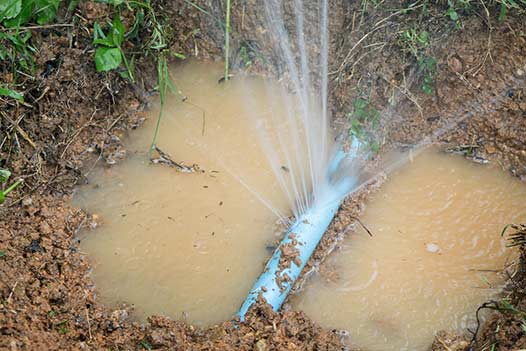 Do you have a water leak caused by a broken pipe or broken water line? Did your pipes freeze and then burst? Did you turn your water on one cold morning and nothing comes out of the pipes? It's likely you have a frozen pipe that has broken or burst. Even homes and businesses that are well insulated can experience the disastrous results of frozen water pipes. When water freezes it expands. When water in a pipe expands, if there is no room for the expansion, the pipe will spontaneously burst. Then when the water thaws, the pipe will leak. Copper piping is especially vulnerable to frozen pipe bursting. There is something bitter about dealing with bursting pipes during inclement weather and Suburban Plumbing Experts are your local plumbing experts who can fix it.
We don't often think of damage from frozen and broken water pipes as being on the same scale as a natural disaster; but damage from water is the most prevalent — yet least recognized — catastrophe. In fact, frozen and broken water pipes rank No. 2 behind hurricanes in terms of both the number of homes damaged and the amount of claim costs in the U.S. Frozen and broken water pipes are a significant cause of loss across the nation. Damage can include soaked and ruined drywall. Wallpaper turns moldy. Kitchen cabinets warp, and carpet and draperies can be ruined. Photo albums, paperwork, antiques, furniture and clothing also can be destroyed. Sometimes homes have to be gutted because mold and mildew cover every inch from floor to ceiling.
Suburban Plumbing Experts identifies and repairs burst and broken pipes. If you are experiencing a flood in your home due to a burst or broken water line, we will dispatch an expert technician to your home immediately for repairs. Your technician will offer a free and honest estimate to repair or replace your broken water pipes. We understand the stress involved with frozen pipe bursting and will work with you to fix these issues and avoid frozen pipe bursting. We are your broken water line experts.