Palatine Hydro-Jetting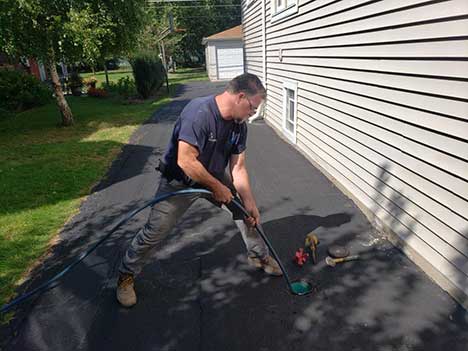 Five-star Palatine hydro-jetting service is always just a short phone call away. If you have sewer system or drain issues on your property, it may be wise to consider professional hydro-jetting service. We here at Suburban Plumbing Experts offer high-quality hydro-jetting in Palatine that can make sewer systems and drains work a lot better. When you need excellent high pressure water jetting assistance, our seasoned plumbers can accommodate you perfectly. They have a lot of Palatine hydro jetting experience and background. Our hydro jetting in Palatine is efficient, thorough, trustworthy and meticulous. If you're annoyed by sewer system and drain concerns that don't seem to be going away, our professional attention is definitely smart. Our plumbers are enthusiastic about providing our customers with the best and most trusted Palatine high pressure water jetting work.
When Hydro-Jetting in Palatine Can Help You
Excessive clogging of drains often suggests that hydro-jetting service may help. If you're bored and annoyed by routine drain clogging, there's thankfully something you can do. Suburban Plumbing Expert's hydro-jetting service can help you minimize the drain clog headaches you have to experience. If you notice foul odors spreading from the drains on your property then that probably means that hydro-jetting service can help you as well. If you're troubled by excessive drain clogs and disgusting odors, contact our plumbing business right away. Our plumbers will assess your sewer system and assess the debris that may be gathering in your drain pipes. Hydro jetting in Palatine will help you say goodbye to drain clogging and unwelcome odors.
Inexpensive Palatine Hydro Jetting And More
Palatine hydro-jetting service can occasionally be costly. This service isn't always costly, however. If you're interested in superb Arlington Heights and/or Palatine hydro jetting work that's also inexpensive, you can count on our distinguished business. We're a company that goes out of our way to offer our loyal customers the finest plumbing rates around. If you want to make an appointment for hydro-jetting service that's efficient, dependable and competitively priced, we can cater to you fully.
Set Up An Appointment For Hydro Jetting In Palatine Today
Drain clogs are extremely annoying. Bad drain smells are just as annoying. If your everyday life seems to be full of these annoyances, contact our plumbing company as soon as possible. Our plumbers can give you hydro-jetting assistance that can improve your life dramatically. If you're passionate about excellent work, excellent prices and excellent attitudes, our plumbing business is definitely for you. Call us and our team of Palatine plumbers as soon as you can to schedule a hydro-jetting appointment.