Schaumburg Hydro-Jetting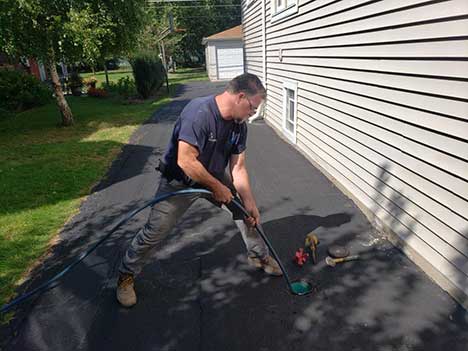 Schaumburg hydro-jetting is a cleaning method that removes debris and build-up by using high water pressure. Hydro jetting in Schaumburg can remove sand, debris, sediment build up and grease. It can also remove tree roots. Because high pressure water jetting can remove a lot of things from pipes and drains, it is often preferred over drain snakes. So if you think you need the help of our team of professional Schaumburg hydro-jetting experts, then just pick up the phone and give us a call straight away.
Benefits Of Schaumburg Hydro Jetting
Clean drains are essential part of a healthy plumbing system. Hydro-jetting in Schaumburg can quickly and effectively remove build-up from your drainage system. Arlington Heights and Schaumburg hydro jetting provides a comprehensive drain cleaning. Many other drain cleaning methods can leave behind sediment. Over time, this sediment can build up and cause your drains to get clogged. Schaumburg hydro-jetting is environmentally-friendly. It does not leave behind mess. There are no harsh chemicals used. It is also important to note that high pressure water jetting can help you save money. You will save money on plumbing services because high pressure water jetting can prevent other problems from occurring.
Hydro Jetting In Schaumburg Is Good For Your Pipes
Hydro-jetting in Schaumburg is safe for your pipes. The only thing that will be used inside of your pipes is water. That is why it does not do any damage to your pipes. Additionally, hydro jetting in Schaumburg is considered a long-term solution. Your pipes will be less likely to get clogged in the future if you have them cleaned on a regular basis.
The Local High Pressure Water Jetting Professionals
If you need hydro-jetting, then you will need to give Suburban Plumbing Experts a call. When you call us, we will be over to your home as quickly as we can. Many people do not get hydro-jetting until their drain gets clogged. However, we recommend that you include hydro-jetting as a part of your regular plumbing maintenance. We want to help prevent our customers from developing plumbing issues. We know that a good hydro-jetting is one of the best things that can be done in order to prevent plumbing problems from occurring. We also want to help customers save money. We believe that people should get a hydro-jetting at least once a year. However, if you notice slow drainage, then you should get a hydro-jetting right away. Slow drainage is a sign that a clog has already started to form. We know that taking care of this will prevent a clog from getting worse. So don't hesitate. Contact our Buffalo Grove and Schaumburg hydro-jetting professionals today.